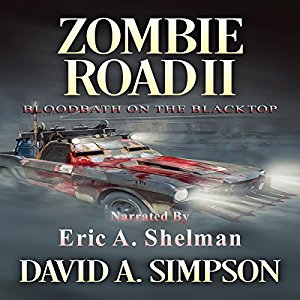 I was very pleased to see this title considering I only just stumbled across Zombie Road earlier this month. You can find my review for it here. I liked Zombie Road so much that I created a 'title of the month' category just so I could award it to 'Zombie Road'.
I am even more pleased to say that this one is even better than the first. The action picks up in every way. The storyline continues to develop depth and the characters continue to become more likeable. I get the feeling that these characters are based on real life friends of the author and the affection the author has for the characters is endearing.
Eric A Shelman continues to impress as the narrator. I also noticed an increasing use sound effects. For example, the use of echoes. This helps the listener get into the story. In the past I have not been a fan of this sort of thing and have been vocal against the use of such things, probably because it has been overdone in the past. Not in this case, it was not a distraction and it just felt natural. Eric A Shelman really did have a difficult task in this one, the sheer number of different characters would be quite a challenge for any narrator. The length of this one nearly 11 hours so even when I increase the speed to 1.25x speed which is what I normally do, the dollar per hour ratio is not over affected.
The story goes up a notch in the use of not just trucks but trains! Seriously what more can a zombie addict want!
This fast Fatman is sitting on his motorcycle with the biggest grin and two fat thumbs held high in the air with a HUGE HEEEEEEEEEEEEEEEEY! The fatman's advice is buy buy buy this one!
I liked this one so much that I am going to do a giveaway of the first in the series! Stay tuned for details!