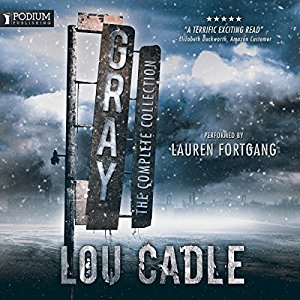 There is certainly a lot to like about this one. Firstly, the author creates the perfect amount of tension through developing characters who are just ordinary people and putting them in an extra ordinary situation. The tension is further developed through the plot itself, the overall reason for disaster and the way some characters respond to the disaster. It all helps creates a level of realism which made me wonder… what I would be like in this situation?
Secondly, there is nothing to complain about in regards to sound quality and the quality of the narration. Maybe, slightly slow… I sped it up a notch to 1.25x speed, but I might have done that because I was so eager to hear the story.
Thirdly, and most importantly I finished this one with a good deal of satisfaction, knowing that I had received excellent value for money… it is over 24 hours in length!
Lastly, I know this probably won't happen. But it is possible for this story to continue. I really hope the author does. I would even pre order a copy! Please don't take this point to mean that I was not happy with the ending and or that it leaves you hanging waiting for an incomplete story to finish. Because it isn't like that all!
In summary, I am happy that I brought this one as opposed to my usual zombie genre. The world's fastest fat man is giving this two thumbs up and a very long and cheerful 'heeeeeeeeeeeeeeeeeeeeey'
PS. Some people have tracked me on the good old inter webs and asked if I receive free copies of the titles I review, or if I get paid for reviews. I can say beyond any shadow of doubt, the answer is no I have not. Some authors have offered, but I have said no.