About
AudibleReviews.org is dedicated to reviewing new or never reviewed zombie books and audiobooks. Sure I will throw in the odd classic here and there, I'm looking at you Keith C Blackmore and your highly addictive 'Mountain Man' series or you very naughty man 'Jake Bible' with your 'ZBurbia' series.
Why am I doing this you ask? Well even if you don't ask I will tell you… I have written a book and hopefully many more, even if it doesn't sell I will continue, simply because it is so much fun. I enjoy the the whole process. Except for… the lack of reviews for my work. Authors work hard and not being able to get anybody to listen or read their work can be very depressing. So that is why I want to review new or not yet reviewed titles. Now here is the tension, I don't want to bag another authors work because I know just how heart breaking that can be, so the chances are I won't leave a terrible review unless something really gets up my nose. But on the flip side, I am a struggling writer who has dropped down to part time to work in order to write more. The audio books I listen to cost me and I hate it when I waste money on a book which I don't like, but worse on a book which is so poorly put together or such quality that I feel completely ripped off.
I hope these reviews will help you make your next audible choice. If you are the author of any of the stories I review. I hope you will be encouraged and know how much your work made my day just that bit better.
If you have a title about to be released please email and let me know. I'm not looking for a free story. In fact if you offer a free title, I will say no! But I am always looking for a new story to listen to.
Feel free to join me at any of the upcoming events.
About Me
Rev Dean Thomas was born in Ryde Sydney and is most likely Australia's fastest fat man.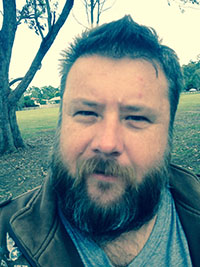 Dean is a very passionate man who has experienced many strange things. For example he passionately hates sand and salt water, but strangely has saved two people from drowning while at the beach. And he lives in a coastal town.
His taste in food is simple – the hotter the better! He loves to cook curry and burn the tonsils off anyone who is brave enough to join him.
By trade Dean is a cabinetmaker, apple mac technician, ordained Baptist minister and all round super handsome guy who does like to exaggerate somewhat, especially in his writing.
Living in Queensland's Sunshine Coast, he enjoys the comfort of sitting indoors where there is no sand or salt water with the air-conditioning set at a chilly 18 degrees, while watching the motogp or world superbikes or anything else that goes vroom vroom.
Dean's favourite hobbies include riding old motorcycles as fast as possible to sample the delights of bakeries all over Australia. Wherever he has travelled he has been on the look out for zombie hordes and has become an expert in recognising any suitable zombie fortress… just in case it is ever needed.
Author of FATz fatman and the zombies