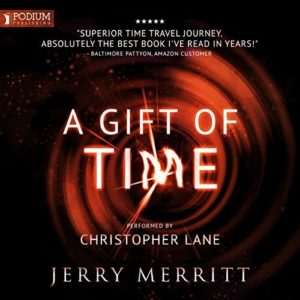 I have struck gold with my last two audio books based around time travel. First there was 'Fata Morgana' and now there is 'A Gift of Time'. Everything I said about Fata Morgana holds true with this one. The value for money just in terms of dollar per hour listening is excellent (over 11 hours long). The narration is excellent. I sped the narration up to 1.25x speed simply because I was so eager to listen to the story. However, what provides the greatest value is simply the story line! It is total amazballs as we aussies would say!
The blurb does a good job at summarising a story which has more twist and turns than a cheap garden hose. I found myself constantly being surprised the development in the story. I liked how the author took some time to explain some of the problems with time travel… problems which other authors tend to ignore. Everything in the story just adds to the great character development. Not only was the character development great but Jerry Merritt just seemed to know how much tension I can handle in a story.
I enjoyed this one immensely and I will be keeping an eye out for any other titles from the author.
This fast fat man is giving this one the full works – Two thumbs up with a very big and long Fonzie 'heeeeeeey' with a smile that says 'I am like a monkey with a new banana!'
PS. I should mention that normal services will return shortly… I will return to reviewing zombie genre very soon.
PPS. Some people have tracked me on the good old inter webs and asked if I receive free copies of the titles I review, or if I get paid for reviews. I can say beyond any shadow of doubt, the answer is no I have not. Some authors have offered, but I have said no.