Top Ten Zombie Series
Today I was going through my audiobook library and I was surprised how many zombie titles in my collection were actually a series. It seems very rare now days for a zombie title to be an single book. I'm not saying that is a bad thing mind you. In fact I like it. The only thing I don't like is how some series are broken into smaller titles… say less than 7 hours in length. The reason being is I am poor and I can never get away from the feeling that I am being ripped off! So you will only find one series in this collection which had a title less than 7 hours in length. But no title in this list gave me the 'ripped me off' vibe!'
So on with the list!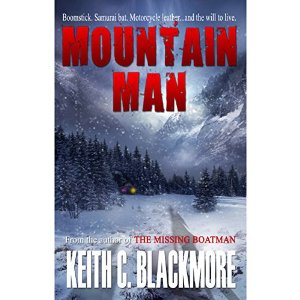 Mountain Man
This was the first zombie series I ever listened to. It is because of Keith C. Blackmore that I have spent so much money on audio books. I find his books as addictive as crack! Not that I have ever tried crack! But you get the picture. I am a Keith C Blackmore fan through and through. How he got me hooked on the series and then in turn zombie genre is through a method I wish other authors would follow.
You see My Blackmore has a free book on audible called 'The Hospital' it is really only a short story. An introduction to the Mountain Man series. It is a free tester and available here
Audible link for Mountain Man Series is here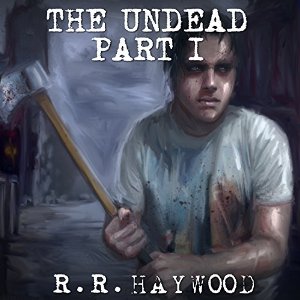 The UNDEAD
The Undead is one of the best values series around. Each one in the series has kept me entertained and to top it all off each one is at least 13 or more hours long. I can't think of another series that has had a change of narrator and continue to impress. The new narrator does an equally impressive job as the first narrator.
This one is set in England but that shouldn't be a problem for anyone. In fact it is refreshing to hear an English accent.
This series just keeps evolving it is no wonder that R.R Haywood is considered to be England's best zombie genre author!
Audible link for the UNDEAD series is here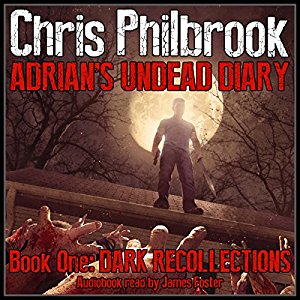 Adrian's Undead Diary
Chris Philbrook really hit a home run with this series. The character development is brilliant the tension created kept me coming back time after time. Chris Philbrook also created another title with the help of fan input. Creating a whole new spin off.
While this one didn't quite offer the same dollar per hour value as some of the others in this list, with some titles in the series under 8 hours in length. It is still pretty impressive. Which leads me to my next statement. The worse thing about Adrian's Undead Diary was that it came to an end! I wanted more!
Audible link for Adrian's Undead Diary series is here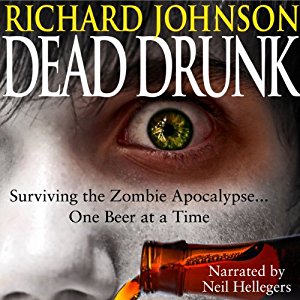 Dead Drunk
Dead Drunk had to be the surprise find of the year for me. I had never heard of the author or narrator before this one. I haven't found another website talk about this one either.
I laughed so hard with this one. The tag lines 'Surviving the Zombie Apocalypse… One Beer at a Time' is an excellent description of the series.
There is no secret plot, hidden agenda, aliens or good verse evil beings in this one. Just good old fashion comedy and character development and of course blood and guts in the form of zombies.
The only negative with this one, is the length. Personally six hours length in my mind is too short. Both books in the series should have been combined to form one title.
Audible link for Dead Drunk series is here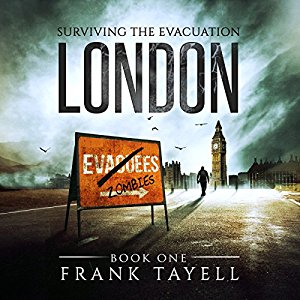 Surviving the Evacuation
Another English series. Those Poms sure know how to write a good zombie title. Personally, I think it is because like Australia (where I live) the English have very tight gun control laws. So like many other English titles the authors are more creative in the death and carnage scenes. This is always a good thing!
This one definitely has a complex plot for a zombie genre story and the character development is up to the task of keeping you interested in the twist and turns within the story. It is a serious story not a comedy in anyway.
This one would have been higher up the ladder but it suffered from the same problem as Dead Drunk in that some titles are too short, just under 8 hours in length.
Audible link for Surviving the Evacuation series is here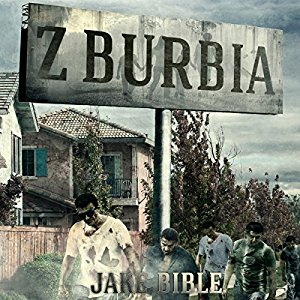 Z-Burbia
This one really crept on me like a bad smell. I mean it just got more and more far fetched. It got funnier and funnier as it went along. The characters development was pushed to the extreme. The reason why I loved it is simple 'it never took itself seriously'. It was as though the story was having a bit of a laugh at itself.
The narration matched up brilliantly with the characters.
If you are the type of person who likes cartoon violence, and I should say 'adult cartoon violence', then you will love this one!
The biggest problem with this one, once again all of the titles in the series are less than 7 hours in length.
Audible link for Z-Burbia series is here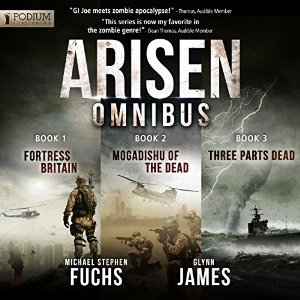 Arisen
I will start of by saying this title addressed the short length of the first three titles by combining them and making a omnibus version available. So books 1 -3 are combined giving a title of over 15 hours in length. The rest in the series are longer in length and do not have the problem of the first 3.
This is not a comedy and it does take itself very seriously. The fight details and details of weapons is… well… detailed.
I loved the story line, the characters and the narration. If you are after a serious zombie story. This is the one! It is like World War Z on steroids!
Audible link for Arisen series is here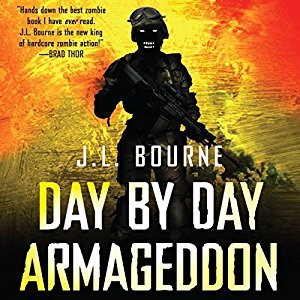 Day by Day Armageddon
I consider this one to be a good introduction to the standard zombie story. It is suitable for people who a military type interest. It does start off slow but heats up nicely as it progresses along. It is written in a interesting style, as it is a 'day by day' account of one guys journey through the zombie horde. Another reviewer said it well when he said "It does not morph the reader into the scene to over hear conversations and thoughts of the characters, this book stays in true Journal format – so there are no conversations between characters we get to experience… there are no side plots… there are no other points of view – from the first page to the last page, this is a documentation of survival"
In summary I liked it a lot!
Audible link for Day by Day Armageddon series is here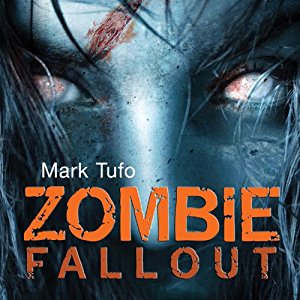 Zombie Fallout
No top ten zombie list would be complete without a Mark Tufo series. I mean this guy is a serious freak. His imagination and his writing style are second to none!
It is a great mix of humour and tension and the narrator does a excellent job of matching the characters.
All of the titles in the series offer excellent value for money and dollar per hour ratio is outstanding.
However, despite heaping all the praise upon Mark Tufo. There is something about his stories which I find hard to get into. But, I know that is just a personal preference because you have only got to see the reviews he pulls over at audible.
Audible link for Zombie Fallout series is here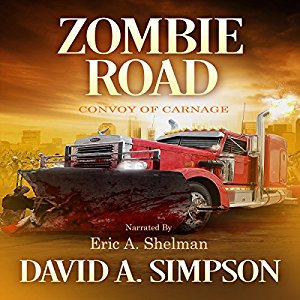 Zombie Road
This one won my title of the month recently and Zombie Road 2 has only just hit audible. I loved the first one in the series. It was a return to good old fashion zombie smashing. You can't beat trucks mowing down zombies. I would never get tired of that sort of thing. The story develops along at a nice pace.
The narration is great and is the first audio book which I have listened to which has used special effects and it has turned out good… not a total disaster like the others I have heard.
The second titles ups the zombie factor smashing by introducing the use of trains. However, a word of warning there is a lot of 'muslim bashing'
Audible link for Zombie Road is here and link for Zombie Road 2 is here