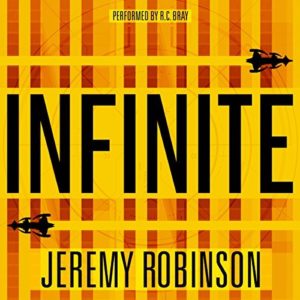 Just wow! It has been some time since I have listened to a story as interesting as this one. The plot in this one revolves around the question of 'what is reality?' 'Infinity', kept me coming back to it whenever 'my reality' got in it the way, and sadly that happened to often… curse you reality!
I was drawn to this one first because of the narrator RC Bray. I have found he can make an average story better. He is a bit like Betty Butter who brought some butter, but the butter Betty brought was bitter, so Betty Butter put the bitter butter with the better butter and make the bitter butter better'. I'm sorry, like I said my reality is not the best!
Ok back to the narration. Bray once again knocks this one out of the park! The only thing with Bray is I like to turn his speed up a notch to 1.25x. The good news is that it doesn't affect the length of this one to much as it is over 10 hours in length. Thus offering great dollar per hour value. And let's not forget that the story is that good! It just adds to the value! I will definitely be looking for other titles by Jeremy Robinson.
This is one of those titles that the blurb doesn't do it justice. The blurb is correct in everything that is written, but the story comes alive and has so many different nuances running through it science friction – love – horror (although not much – so don't be put off if that isn't your thing). One of the greatest parts to the story is the reflections upon the humankind.
The normally restricted to zombie titled fatman is giving this one the full Monty! This one rocks! picture a fatman with no clothes on dancing with two thumbs held high in the air going 'heeeeeeeeeeeeeeeeeeeeeey'… That is how excited I felt when reading this one.
PS. Some people have tracked me on the good old inter webs and asked if I receive free copies of the titles I review, or if I get paid for reviews. I can say beyond any shadow of doubt, the answer is no I have not. Some authors have offered, but I have said no.