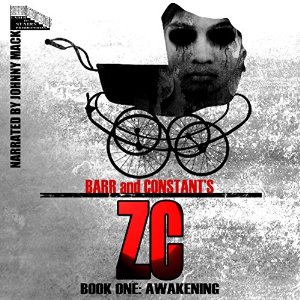 The blurb reads: "Humanity's advancements in medicine, meant to eliminate disease and extend life, have led to a macabre reality of childhood vaccinations gone terribly wrong. Kids have transformed, changed into ravenous beasts that are nightmarishly quick, disproportionally strong, and void of empathy. No amount of planning or preparation could have saved the human race against this unexpected attack, centralized in the heart of every human home, and the US is quickly thrown into a chaos of Z Children".
The author Eli Constant and B.V. Barr, Eli have four  books on Audible as a solo author and several more partnership works. This title appears to be the first from B.V. Barr. I had not listened to either of these authors or narrator before and I believe I am the first to review it on audible.com so it always a suprise, sometimes not a good one… but hopefully this one will be as I have run out of money to purchase anymore this week!
Authors put a lot of effort into writing and it is a real slap in the face to have some fat idiot come along and bag their efforts. On the other hand I do understand how it feels not to have a lot of cash to burn on audio books. So I promise to do my best to provide the best review I can and hopefully strike a balance between not hurting the author and helping the buyer not to throw money away on a dud!
This is the first zombie genre book which I have read or listened which is focused on a outbreak within the kids. It is a novel approach. To be totally honest I was a little hesitate in purchasing this one because I thought the little kids thing would be to stressful for me… I know I am a big baby, well that is what my wife says!
I needed have been worried because it wasn't the zombie children that caused me the tension. That side of things was handled brilliantly! The only tension I had was with some of the characters, perhaps a little to stereotyped, one sided, a little to extreme to be believable! But boy did they suck me in! Right from the start! There is just the right amount of detail in each encounter with a zombie. I also liked how the story switched from chapter to chapter to a different perspective, this really helped with the character development. The use of humour is good, it is not like a Jake Bible's use of humour in 'Z-Burbia' but enough to break the tension and stress.
This turned out to be one of those stories that I wished I could have listen to in one sitting. I will definitely be keeping an eye out for a second in the series.
Narrator Johnny Mack has one other title on audible. Found his voice pleasant to listen to but way to slow. Easily listened to at 1.5x speed, but probably best suited for 1.25x speed. I just couldn't handle listening to it at normal speed. I am not to sure if it just the fact I downloaded the audio at standard quality or if I just got a dud download, but every time the narrator spoke I could hear static. It was distracting with a good quality set of earbuds. But not as obvious if I listened to it with earphones or a speaker. It certainly shouldn't turn you off from buying it, but it has made me reconsider my choice of quality settings when I download from now on. The narrator had to do multiple characters with multiple genders and I think he did an excellent job! I would have no hesitation with purchasing a book narrated by Johnny Mack. I hope he continues to pick quality titles like this one in the future!
A definite two thumbs up from the worlds fastest fatman!