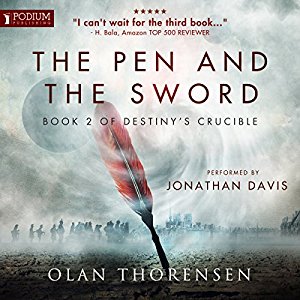 'Please forgive me father, for I have sinned'… I have continued to stray from my usual zombie genre and again I am rewarded for doing so. I couldn't ask for any better value for money, 'The Pen and the Sword' is over 17 hours in length and more importantly it is another great listen!
Jonathan Davis does an excellent job in what must be a very difficult narration… so many very different characters. This one would be an ideal candidate for multiple narrators! The speed of the narration was acceptable, like nearly all of today's titles I sped it up a tad to 1.25x speed.
I loved the tension that is raised through the story… the title 'pen and the sword' fits the story perfectly. The last chapter and the prologue are awesome and left me wanting more. I have already ordered the third one!
I suspected without the alien or 'watchers' part of the story I would have grown tired of the story, but Olan Thorensen seems to have struck the perfect balance with Joe Colsco's life and trails and the role of the 'watchers'. I am really looking forward to see how that pans out in the future.
This fast fatman who is out of place in a world without zombies is giving this the full monty! Two fat thumbs held high in the air with a very big and long fonzie 'heeeeeeey' with a stupid I just eaten a donut grin. In others words 'I like it… I like it a lot!'