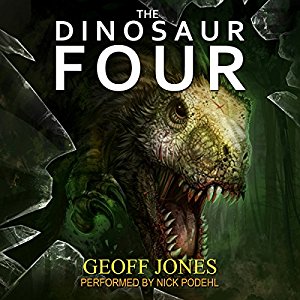 Those of you who follow my reviews will know that I have a crazy lust for all things zombies and of course my secret man crush on Mr Keith C Blackmore. Yes I know it isn't normal! You would also know that I don't often visit outside my zombie genre. But I thought 'a change is as good as a holiday' and plunged in and purchased this title along with 'The Jurassic Dead'.
If you know about 'The Jurassic Dead' title then you would know that it involves 'zombie dinosaurs' plus other extras. So this title 'The Dinosaur Four' would have to be a pretty amazing in every detail or a story so full of wild amazing ideas, or it would be destined for trouble.
I did enjoy the story itself, it just wasn't long enough or complex enough, or believable! Not that the idea of time travel is believable… I just didn't find the characters believable or even likeable enough to care.
The time travel idea certainly interest me and did cause me to listen to this one in just over two days. But the time travel thing…. was not enough and left me thinking that it had some glaring problems. For example, if time travel was/is possible the author didn't really take into factor the location problem… Lets say the cafe moved 63 million years into the past. The location of the cafe would be totally different. The earths location would be different. But yet the story focused on the time and location of the cafe without taking in consideration the earth's location in relevance to the universe.  You will see when you listen to the story why the location is such a big deal. I know this may seem strange, but it seems stranger not to address some of the most common problems like this in a title which is based around time travel.
OK with all of those comments out of the way. I still got my eight hours of entertainment out of the story. Which is never something to just pass over! It must be acknowledged that this is a good story. It is just not a story I think I would rate highly when compared to some of it's competition.
On the narration side of things the narration was pretty good, I had no complaints, I had to chuckle a couple of times when the narrator made the dinosaur noises! The speed was slow, but honestly I find all the current narrators are a tad slow. I turned this one up to 1.25 speed. Actually I think this helped the story line, it seemed to increase the tension of the story.
I personally would have no problem buying another title written by Geoff Jones or narrated by Nick Podehl. But I would prefer to wait until the title was on the 'specials' list.
I really hope I don't sound like I am ripping this one apart, because like I said I did enjoy it. The problem is it has some stiff competition.