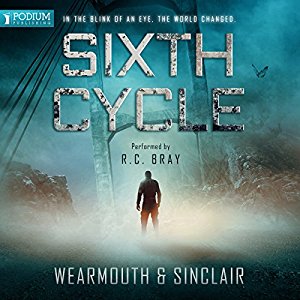 I tend to listen to any title that one Mr R.C Bray narrates as he has the great ability to turn a story I don't naturally gel with into something which is acceptable. That is not to say that there is something below par with this title!
However, I finished listening to this one and felt it could have been so much better! This could easily have been the surprise title of the year for me and I do listen to a lot of titles! It has an element or feel of 'Planet of the Apes' to it. In the sense of 'what has man done?' While at the same time a cowboy and Indian feel with a Wild West theme. It has a mutant, although to tell you the truth I was hoping for a zombie theme…. But don't tell anyone that 🙂
But then when I sit down and think about it some more, it could have also been so much worse with those different types of elements contained within. I get the feeling this title could have been much longer with much more character development from all of the different parties. I thought it felt like a story made for a movie straight out of the box.
The narration was good, usual R.C. Bray standard. Speed was increased to just 1.25x so no significant impact to your $ per hour calculations.
This one will keep your commute to work from becoming to stressful or boring, but as it stands it is not an outstanding title when it had the chance to be outstanding.
All in all just one out of two thumbs up from this fat man!