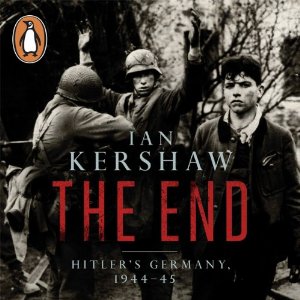 Ian Kershaw along with Stephen Ambrose are giants when it comes to these type of books. The author's ability to bring clear historical facts to life along with insights into the character of the time and people is nothing short of brilliant!
Surely, this type of book should be compulsive for all high schools so that hopefully we will never repeat the mistakes of the past.
At the time of listening to this title I was also listening to Jack El-Hai's "The Nazi and the Psychiatrist: Hermann Goring, Dr Douglas M Kelly, and a Fatal Meeting of Minds at the End of WWII" This was a perfect match for this book. For Jack's book continued on to examine from a more clinical view of the questions raised in Ian Kershaw's book. I would highly recommend listening to this one first then move on over to Jack's book.
A word of warning, it is not the type of title you listen to in one sitting. It took me a couple of weeks to make it through to the end.
The narration is brilliant and like so many other titles now days can be best listened to at 1.25x speed.