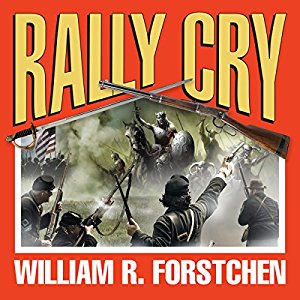 I feel like I need to say, 'forgive me father for I have sinned… I have ventured away form my usual zombie genre again'. Truthfully, I am glad I did. I took a punt on this one. There were no real detailed reviews. I was running low on cash and needed a title which was long enough to make certain I could see the end of the week out.
This one took me hour to really get into it. At first, I was thinking this is just a simple army transported back in time deal. That in itself isn't a bad story line. But as the story went along it really developed into so much more. The author needs to be congratulated for the great ideas which were gradually introduced in this one. Actually, this kind of summarised my thoughts of the whole story, wasn't expecting much, but as the story went it gradually grew on me, to the point that I have purchased the next in the series.
Narration: not the best in sound quality more static than usual. The breathing of the narrator is more obvious. Speed was acceptable and could easily be listened to at normal speed. The slightly less quality might be due to the fact that this is a old release… I think 1990. The benefit of not needing to be sped up like so many titles these days is that you get full value dollar per hour wise. And at over 15 hours it is excellent value!
The story is similar to 'Destroyermen' series by Taylor Anderson, or is it the other way round? Destroyermen is similar to Rally Cry The Lost Regiment??? Either way it doesn't matter. I loved Destroyermen and now I am hooked on this one!
What I found very pleasing is the ending of this one. I won't give away any details. However, I will say this one does end well and it is not one of those stories which forces you to buy the next in the series to find out what happens. The reality is that you will buy the next in the series because you won't want it to end!
My recommendation on this one is simple… only buy if you want to get hooked on a long series. The value for money in this one is outstanding!
Below is the blurb which did prove to be very accurate.
Boarding a transport ship after the Battle of Gettysburg, Colonel Andrew Keane and his 35th Maine regiment are swept into an alternate world. The first human civilization they encounter on this planet resembles medieval Russia, with boyars and priests ruling over the peasants and townspeople. Soon Keane and his regiment learn this world's terrible secret: that cannibalistic hordes of large, fierce Tugars circle the planet and demand tribute – including humans to be devoured. And the hordes will be arriving sooner than expected, with several hundred thousand warriors on horseback.
Using all their 19th century know-how, Keane and his men build a new society with railroads and ironworks, and with skill, cooperation, and courage, the regiment and most of the Russians work together in hopes of defeating the horde.
A great story of survival and bravery in the face of overwhelming odds. First novel in the acclaimed Lost Regiment series by the author of One Second After, One Year After, and Day of Wrath.