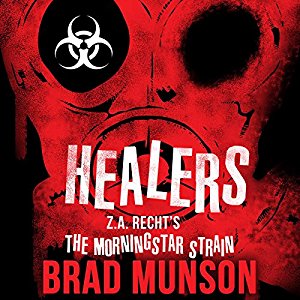 It has been a long time between drinks with this series. The last in the series was released in 2012. I am lucky to remember what day it is, let alone the details of a zombie story I listened to 5 years ago. Since then I have listened to 242 other zombie titles. So it was definitely going to be a mighty effort to get back into the swing of things with this one.
I'll start off with the things I liked about this one. The narration was good and only needed to be sped up to 1.25x speed. This in turn meant that the $/per hour ratio was good. The story in itself is standalone, so if you are worried about it being such a long time between drinks. Don't worry, it does reveal enough about what has happened for it to make sense. Another factor I enjoyed was the lack of descriptive sex/rape scenes which seem to be in so many end of the world titles these days. In fact not a lot of swearing in this one… well not that I noticed, I am sure there was some, but it wasn't over the top.
Ok now onto the things which I thought 'meh' about (by the way I saying 'meh' to appear cool to my kids, so please don't hold that against me). The character development of some of the newer people injected into the story just seemed strange. I mean if someone who is critical to the story is mad… I want to know why and even the how. Actually, I thought if things were just a little bit more expanded in terms of character development this one could easily have grown into another  book in the series. I got the feeling that the author was glad to get this one out and done with. Which in my view was ashamed because I did like it. But after reading my reviews for the previous in the series I suspect I liked those earlier one's more!
I just read that the original author had died. I'm not sure if that is true, but if it is, it certainly explains a lot.
Would I buy another title by Brad Munson? Yes you bet! Would I listen to another title narrated by Oliver Wyman? Certainly? Was this the best conclusion to the series? Probably not. But I enjoyed it nonetheless and you can't ask for much more than that!