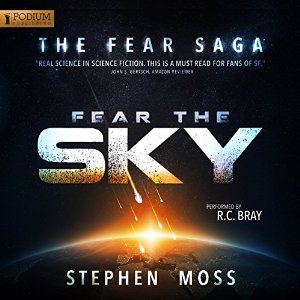 This has been a change for me, a break form the zombie genre to listen to some of R C Bray's other work, it has been just what the doctor ordered! I absolutely loved this one! The character development, the story, the writing styles, the use of language, the narration have come together to make a truly enjoyable story. Over the years my collection of titles has grown considerably, and this this one is right up at the top of the list, if not the top of the list. It challenges my favorite genre titles (zombies) it could actually make me branch out into other genres.
I work in IT hence why I like the zombie genre. I often find myself daydreaming about some of my clients being chased by zombies – In many situations I just want to say to clients ringing me with a problem – 'What is I told you that blah blah blah does not count as a error message'. But now after listening to this story I am reminded of a line delivered perfectly by RC Bray towards the end of this one, one of the main characters is speaking after having just a little too much stress, just snaps and says 'silent scum'. Somehow the picture of this scene manages to lift me out of my gloom and doom.
Another pleasant surprise was the length of this title. It seems unusual of late to have a title go for 20 hours. Most stories this long nearly always get broken into two titles which often leaves me feeling like it is a money grabbing exercise. As per usual I like to speed the narration up to 1.25x speed for any of RC Bray's work, but at 20 hours in length it does not effect the dollar per hour ration… it is still excellent value whatever way you look at it. The quality in this title is up there with "The Martian" in writing and narration. In fact I had to fight not to speed it up further just so I could find out what was happening next!
I liked this one so much that purchased the next in the series and I can't put it down long enough to write this review! It is a well known fact that I am so poor that I can't even pay attention. But this title is such good value in quality and length that I would have been mad to pass on this one!
Two thumbs up and a big grin from the fatman on this one!