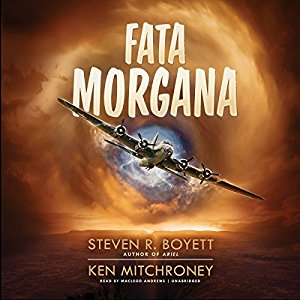 I often measure the value of a story by how annoyed I feel when real life gets in the way of listening to the story, and I have been annoyed a lot this week with all the interruptions I have had while listening to this one. I know the whole time travel in war thing has been done before. However, this one is done well, very well! Another major factor in the value I place on a title on audible is the total listening length. I am always a little dubious about paying full price for a title that is under 10 hours in length. This is mainly due to the fact I found most of today's titles to be a tad slow on narration and need to be sped up to 1.25x speed. This one is no different, I sped it up to 1.25x speed, but it is just over 12 hours in length. The two factors alone bode well for a positive review.
The narration is excellent. The narrator did a great job with multiple characters all with different accents both male and female. There was a couple of clicks and pops in the narration. However, not enough to cause any real grief, I didn't even bother re downloading the title just in case something went wrong with the first download that was causing the trouble. I wouldn't have any problems with listening to Macleod Andrews again.
The blurb does an excellent job in summarising the story, and to tell you more about the story would be spoil the plot. However, I have to say something about the ending. I loved the personal nature of it. This would have to be one of the most enjoyable endings I have listened to in a long time!
This fast fatman who is now hanging out for a holiday, is giving this one the full two fat thumbs up with a very big and long fonzie 'heeeeeeey' with a smile that says 'I am like a monkey with a new banana!'
PS. I should mention that normal services will return shortly… I will return to reviewing zombie genre very soon. It is just I had brought the past few stories when I couldn't found too many new zombie titles.
PPS. Some people have tracked me on the good old inter webs and asked if I receive free copies of the titles I review, or if I get paid for reviews. I can say beyond any shadow of doubt, the answer is no I have not. Some authors have offered, but I have said no.