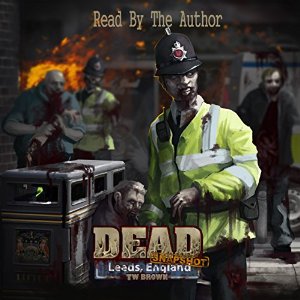 I had a bit of a panic attack when I first purchased this one from audible. All because I was not aware this was the second book in a series. But I needed have worried because one of the unique things about this series is that you the reader can contact the author with a location for the next in the series. You just have to explain why you think the location would be a good one. Apparently, only one or two characters are involved in other locations. So in reality it makes no difference if you are reading or listening to the first or the second or the eighth for that matter! It really is seperate zombie stories based upon suggested locations given to the author.
I got to admit I like this idea of the author, it is a novel idea and I am happy to say I think the author has the talent to make it work!
Speaking of the authors talent, he is also the narrator for this title and he really does an excellent job with that as well. Far better then some I have heard on some of the new releases lately!
Strangely I couldn't help but think of R. R Haywood's 'Undead' series. Perhaps it was just the location (England) and or the similar name, perhaps it might even be the cover design which have the same sort of layout? This one certainly doesn't go down the same path as the 'Undead' series in looking at the reason or even nature of the zombie outbreak. But it is equally as entertaining!
DEAD: Snapshot: Leeds, England does have a couple of surprises I can't give to much away but it does remind me a little of Z Children: Awakening: Children of the Z, Book 1 which I review here
The start of the audio title includes a bit of information about the series and just some of the observations from the author about his writings. It is clear the author is certainly doing his best to improve his art! I personally will be looking out for his writings in the future.
It is a two thumbs up from this fast fatman!