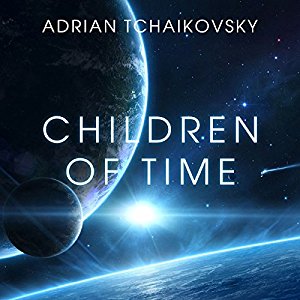 Crazy people – deep space travel – artificial intelligence – search for life – human attempts to interfere in the process of evolution – end of the world… all within the first chapter! What more could you ask for?
Zombies! That would have been awesome!
But alas… even without zombies I loved this one. Because at the heart of this amazing story is the basic human desire for security, self-worth and significance. In all of the far-fetched extremes of the story is something all of us can relate to. I forgot to mention there is also a love story, and mutant spiders!
In regards to the narrator. I can report that there is nothing to say other than the usual 'I turned it up to 1.25x speed'. But that wasn't a drama because the length of this one is over 16 hours. Giving the listener great dollar per hour value! I would have no hesitation with purchasing a title narrated by Mel Hudson.
Adrian Tchaikovsky is an awesome story writer. The imagination needed to come up with this one is incredible. Things did speed up dramatically towards the end. Which honestly I felt was a shame, because it could have easily been fleshed out more and made into two parts. I liked it that much I would be willing to pay more for an extended version. That is saying a lot because I am the cheapest person you could ever meet. I am so cheap I let my hair fall out to save on haircuts.
This very cheap fatman is giving this one two BIG thumbs up and a loud and long 'Heeeeeeeeeeey'.