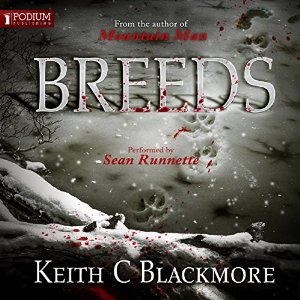 Finally Mr Blackmore returns! One of my favourite zombie authors has delivered a new title 'Breed'. It is not a zombie title but boy was it good! It gets even better, Sean Runnette is the narrator. This guy has the perfect voice for any of Keith C Blackmore's characters, that is if you speed it up to at least 1.25x speed and easily 1.5x speed in most parts.
Seriously I couldn't get enough of this one. Stuff it I am not going to sprout on about this…. just do yourself a favour and buy this one, in fact do yourself a favour and pre order the second one!
Every bit as good as the Mountain Man series. Perhaps better!