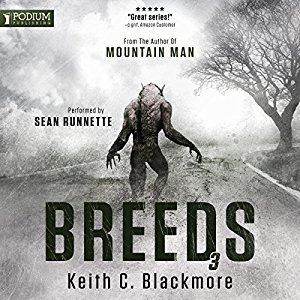 Ok I have to confess… I have a man crush on Keith C Blackmore and Sean Runnette. Keith C Blackmore is the man responsible for my addiction to audible. His free audio book 'The Hospital' is the story which first got me hooked on zombie audio books. Since then I have spent all of my spare cash on audible while my TV has stood neglected and covered in dust. I found myself going for long car rides just so I have an excuse to get away and listen to another book. So of course when I discovered that Mr Blackmore had another title which was not in the zombie genre I was became a little concerned. Perhaps, it wouldn't be as good? Perhaps I wouldn't like it? The stakes were high. But I needed have worried myself, because I ended up concluding my review of the first in the 'Breed' series with the following:
Seriously I couldn't get enough of this one. Stuff it I am not going to sprout on about this…. just do yourself a favour and buy this one, in fact do yourself a favour and pre order the second one!
Every bit as good as the Mountain Man series. Perhaps better!
The series continued to deliver with book 2.
However, with all of those nice things being said about books 1 and 2. Book 3 took me by surprise. I won't give any spoilers away, but just like in the 'Mountain Man' series this story did away with some of the previous characters… It is probably my only criticism of Mr Blackmore's books. He gets me addicted to the characters, then takes them away from me. I went through withdrawal pain when Gus was not in one of the Mountain Man series. Book 2 had no Borland. This one has no Borland and a couple of others. Worse of all is I am not sure there is going to be a Book 4. This has a conclusion but could easily be extended. I hope it is. I would like to hear some more character development from one guy in the story (the lonely guy in the old cabin – you will know who I mean when you get to him).
While over the years other zombie books have arrived on the scene and have equalled or even bettered Mr Blackmore's zombie books (I can't believed I just said that). His mountain man series has stood the test of time. I suspect this one will do the same. It is by far the best werewolf type story I have heard so far. But I have only just started to scratch the surface on this genre.
As per normal with Sean Runnette's narration the quality is brilliant but the delivery I find is on the slow side. I sped this one up to 1.5x speed and had no problem listening to it.
So, in summary what does this poor fatman think of this one? I love it! Worth every cent!