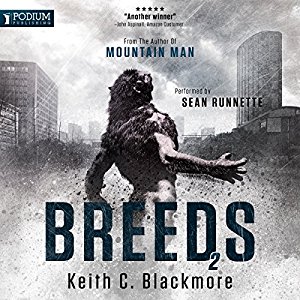 Once again I have a confession to start with, I have a bit of a man crush on Mr Keith C Blackmore. His 'Mountain Man' series and his first free title 'The Hospital' got me absolutely hooked on the zombie genre. Now hundreds of dollars later I am still consuming zombie titles faster than a fast zombie doing something very fast! But now he has really pushed me over the edge, he has forced me out into another genre. Lucky for me this new genre has some slim pickings, and hopefully won't cost me as much. The 'werewolf' genre! Seriously Mr Blackmore, I can just give you my bank details and you can take my cash as soon as I get paid.
The first book in this series left me hanging and I feared I would not get to see the second one. So imagine my joy when I see book 2 had been released. I was even happier when I noticed Sean Runnette was again the narrator. Sean's voice is the perfect match for every one of Mr Blackmore's created characters. It seems like a match made in heaven, except for one thing. Sean Runnette in my mind is a very slow talking narrator. I have always found myself speeding up his narrated titles. Sometimes up to 1.5x speed. However, in this case the story is that good I would have sped it up anyway because I just wanted to know more and I wanted to know now!
However, with the speed of the narration in mind and with the shortish length of this title (9hours) your dollar per hour ratio is affected. It might be important if you are on a budget. You will easily blow your cash on a title you will listen to in one sitting!
I found this one even better than the first and look forward to what happens in the future with this series. If only Mr Blackmore could figure out a way to introduce Gus from 'Mountain Man' to 'Breeds'
This fatman could not get enough of this one. I will give this one my two thumbs up a big grin and a stupid sounding 'heeeeeeeeeeeeeey' (fonzie style)… and please Mr Blackmore let there be a third in the series, and let it be fast!